You asked us to post English content about the North a couple of times. So we've made this list of several works about northern architecture, culture and history. Enjoy reading and share these books with your friends!
1. Evgeny Khodakovsky Wooden Church Architecture of the Russian North: Regional Schools and Traditions (14th – 19th centuries)
The book presents a broad panoramic overview of church architecture in the Russian North between the fourteenth and nineteenth centuries. While it is inevitably overshadowed by the imperial splendour of the country's capital cities, this unique phenomenon is regarded as the most distinctive national expression of traditional Russian artistic culture and at the same time as a significant part of humanity's worldwide architectural heritage.
Источник: https://www.amazon.com/Wooden-Church-Architecture-Russian-North/dp/1138852902
2. William Craft Brumfield Architecture at the End of the Earth: Photographing the Russian North
Carpeted in boreal forests, dotted with lakes, cut by rivers, and straddling the Arctic Circle, the region surrounding the White Sea, which is known as the Russian North, is sparsely populated and immensely isolated. It is also the home to architectural marvels, as many of the original wooden and brick churches and homes in the region's ancient villages and towns still stand. Featuring nearly two hundred full color photographs of these beautiful centuries-old structures, Architecture at the End of the Earth is the most recent addition to William Craft Brumfield's ongoing project to photographically document all aspects of Russian architecture.
Источник: https://www.amazon.com/Architecture-End-Earth-Photographing-Russian/dp/0822359065
3. Richard Davies Wooden Churches: Travelling in the Russian North
"80% of Russian wooden architecture that existed pre-1917, no longer exists. But luckily, there is still something left to fight for." Professor Vyacheslav Petrovich Orfinsky, Architecture Department, Petrozavodsk State University, August 2008 The photographs in this book have been taken over a period of nine years.
Источник: https://www.amazon.co.uk/Wooden-Churches-Travelling-Russian-North/dp/0957045603
4. Starokadomskii, Leonid Mikhailovich. Charting the Russian Northern Sea Route: The Arctic Ocean Hydrographic Expedition 1910-1915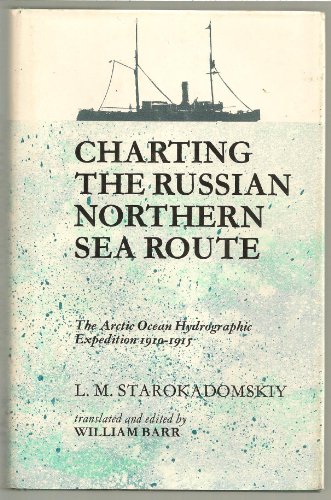 Леонид Михайлович Старокадомский (27 марта [8 апреля] 1875, Саратов — 27 января 1962, Москва) — русский врач, полярный исследователь. Открыл архипелаг Северная Земля.
Автор свыше 130 публикаций по вопросам морской гигиены, гидробиологии полярных морей, а также ряда статей в Большой Советской энциклопедии.
Владел несколькими иностранными языками, перевёл на русский язык ряд научных медицинских изданий.
Подробнее об этой книге: https://www.abebooks.com/first-edition/Charting-Russian-Northern-Sea-Route-Arctic/992844230/bd
Об авторе
5. Yuri Slezkine Arctic Mirrors: Russia and the Small Peoples of the North
For over five hundred years the Russians wondered what kind of people their Arctic and sub-Arctic subjects were. "They have mouths between their shoulders and eyes in their chests," reported a fifteenth-century tale. "They rove around, live of their own free will, and beat the Russian people," complained a seventeenth-century Cossack. "Their actions are exceedingly rude. They do not take off their hats and do not bow to each other," huffed an eighteenth-century scholar. They are "children of nature" and "guardians of ecological balance," rhapsodized early nineteenth-century and late twentieth-century romantics. Even the Bolsheviks, who categorized the circumpolar foragers as "authentic proletarians," were repeatedly puzzled by the "peoples from the late Neolithic period who, by virtue of their extreme backwardness, cannot keep up either economically or culturally with the furious speed of the emerging socialist society."
Источник: https://www.goodreads.com/book/show/575350.Arctic_Mirrors
7. Piers Vitebsky Reindeer People: Living with Animals and Spirits in Siberia
A voyage of discovery into the life of a remote aboriginal community in the Siberian Arctic, where the reindeer has been a part of daily life since Palaeolithic times.
The reindeer, along with the dog, was probably the first species to be drawn into a close relationship with man. This book, by an eminent British anthropologist, is the beautifully written story of how that relationship works and of the intimacy between the nomadic reindeer people and the landscape they inhabit. What to the Western eye looks like a vast, uninhabited Arctic wilderness is in fact filled with animals, humans and spirits – and the memory-traces of their interactions down the ages.
Источник: https://www.amazon.co.uk/Reindeer-People-Animals-Spirits-Siberia/
8. Valerian Ivanovich Albanov In the Land of White Death: an Epic Story of Survival in the Siberian Arctic
A Russian navigator describes an ill-fated 1912 Arctic expedition aboard the Saint Anna, and his grueling cross-country journey to get help in 1914.